Beard balm is a phenomenal beard product to moisturize and soften your beard. But when to use beard balm? In this post, you'll know the best time to apply beard balm on your facial fuzz. 
Time to use any product, including a beard balm, is dependent on the individual. When your beard feels dry, itchy, or just not looking its best, that's generally a good time to apply beard balm.
Later in the post, you'll also learn when you should start using beard balm and for how many times!
Let's jump on the straight and definite answer right now. 
When To Use Beard Balm?
The best time to apply beard balm is after you've showered and towel-dried your beard at night. Showering opens the pores of your skin and allows the balm to absorb easily.
You can also use a hairdryer on low heat to help the process if you don't have time to shower. Apply a small amount of balm to your hands and rub it into your beard, making sure to get to the roots. 
For the best time of the day to use beard balm, it depends on what you're using it for. If you're looking for all-day hold, then applying it in the morning is your best bet. But applying it at night would be better if you want to control flyaways and add shine.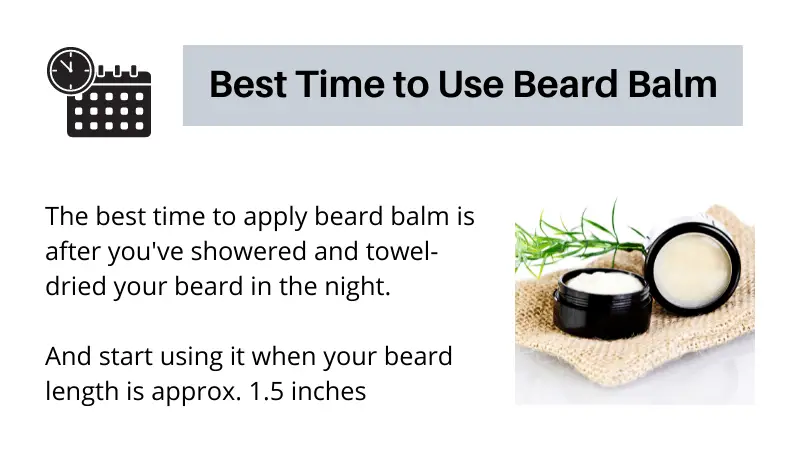 Let's jump on the detailed discussion on why beard balm is better for you after the shower and in the evening.
Why Use Beard Balm After the Shower
Showering your beard with warm water helps remove the dirt, dust, and sweat from your beard. It also opens the pores of the skin and the beard hair, making them more receptive to beard balm.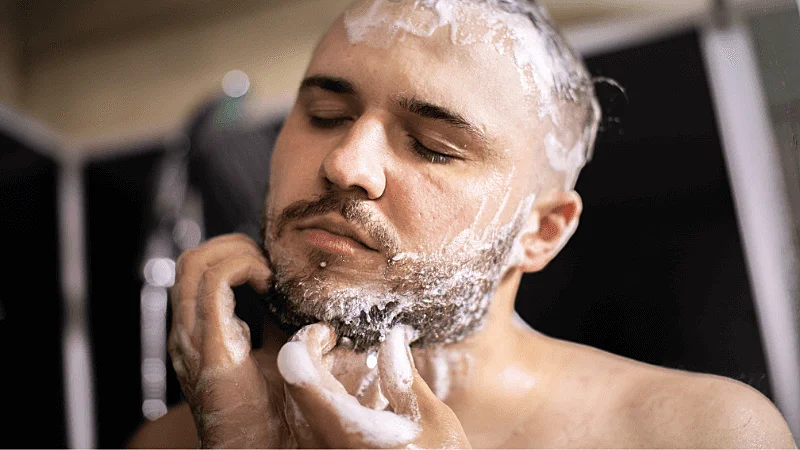 Applying beard balm after showering is a good way to keep your beard healthy. It will help seal in the moisture from the shower, keeping your beard hydrated. The balm will also help control the frizziness of your beard.
Make sure to apply beard balm after showering for the best results.
When to Apply Beard Balm: Morning, Evening, or Night?
This all-rounder product benefits everyone and every time, but it is perfect under specific conditions. I already recommend using beard balm at night because it helps seal in moisture and keeps your beard healthy. 
But, what about the morning and evening? 
Morning
If you're like me, you probably want to get out the door as quickly as possible in the morning. Using beard balm before you head out will help keep your beard looking tidy all day.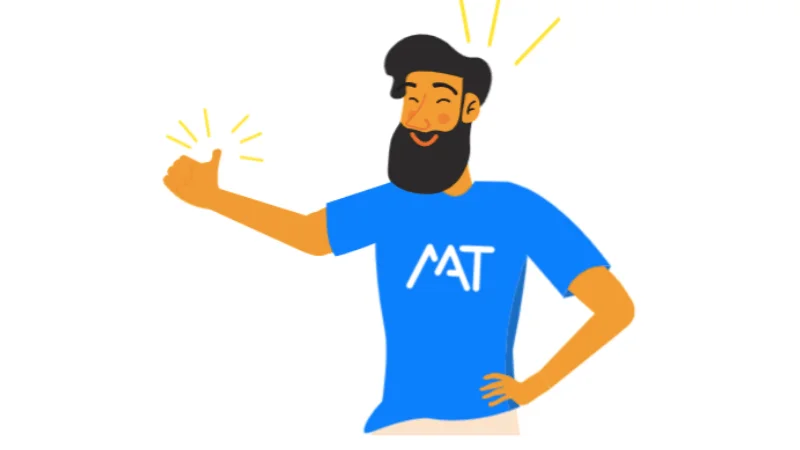 In the morning, beard balm helps you manage flyways and keeps your facial hairs together in a groomed shape. It is ideal for a formal meeting, office, school, and other places where you want to look "put–together."
Evening
Beard balm in the evening will also groom your hair, providing them with a neat look. But if you apply the balm in the evening, wash your beard before going to bed, or else you'll face product build-up.
Night
If your skin and beard are on the dry side and you believe nothing can soften them. Then, apply the balm at night and layer it thoroughly on the facial hair. It will nourish your skin and moisturize every hair strand.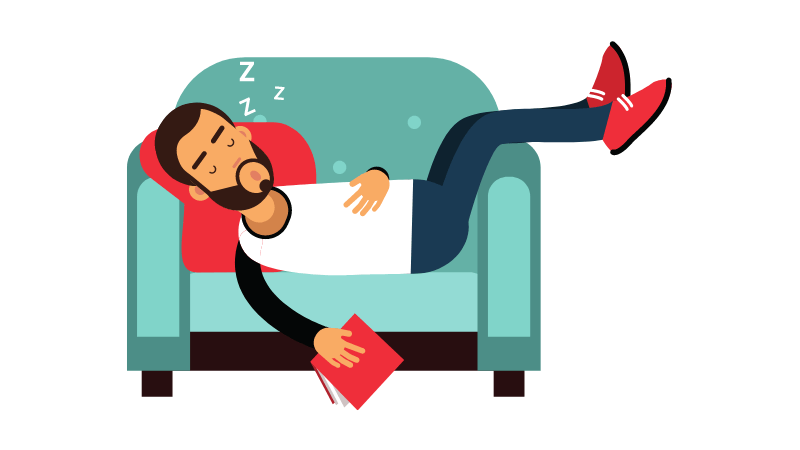 Whenever you use beard balm, ensure not to overdo it. 
Here's How to Use Beard Balm Correctly.
When to Start Using Beard Balm
Beard balm provides protection, hydration, and nourishment to your beard hairs. So use it whenever you feel like you need it. But I recommend using it when your facial hairs are at least 1.5 inches long.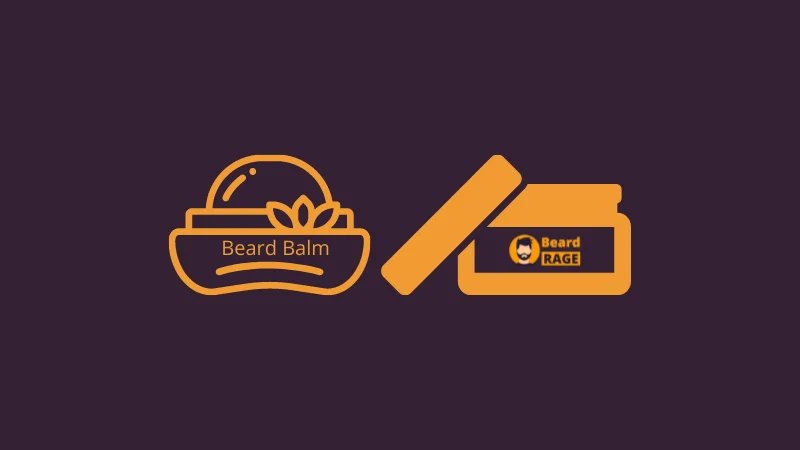 During this phase of your beard, the balms help in:
Grooming flyways 
Managing the denser hairs
Moisturizing and softening
There may be some exceptions because every beard grows differently and requires a special routine. You can use beard balm when:
Your beard causes itchiness, dandruff, acne
The skin under your beard is dry and rough
Beard oil does not do anything helpful for you
Also, read: Does Beard Balm Cause Acne and Clog Pores?
So, there is no hard and fast rule for that. If you want to apply beard balm to a short beard, use it less frequently and in less quantity.
When to Put Beard Balm On in Beard Care Routine
You must be using all the must-have beard products like a balm, oil, shampoo, conditioner, and more. But at which step should you use the beard balm in your routine?  
1: Clean your beard with a beard wash/shampoo.
2: Cleanse your beard with a beard conditioner for 5 minutes.
3: Use beard oil now and let the beard rest till it is damp (optional).
4: Apply beard balm on damp hair.
5: Comb or brush your beard at the end.
There is no harm in using beard oil and balm together, but it is time-consuming. But if you still want to use them both, go for the "less is more" mantra. Or else, you can use beard balm and oil on alternative days. 
Watch this YouTube video where Dan discusses which beard product to use first and why!
Frequency of Using Beard Balm
The perfect frequency of beard balm depends on your thick mane and rough strands. Excessively using it can cause your beard to become greasy, while too little will not be effective in hydrating and conditioning the hair.
Side effects of using beard balm are rare but can include skin irritation and acne. If you experience any of these side effects, discontinue use immediately.
To achieve the perfect balance, try using beard balm every other day or daily. 
Also, read: Can I Use Beard Balm on Head Hair and Mustache?
Quick Takeaway: When to Use Beard Balm
The right time to use beard balm is after showering at night. But there's no hard and fast rule as it mostly depends on your beard. Apply it to your beard whenever you feel your beard is dry or rough. Happy grooming!