Beard trimmers are one of the most versatile tools in a man's grooming kit. You can use them from maintaining a well-groomed appearance to sculpting complex designs into your facial hair.
However, many men still don't know how to use a beard trimmer correctly and what they can do it with. As a result, they often end up with an uneven, patchy beard without any style.
No worries because, in this ultimate guide to using a beard trimmer, I'll show you how you can use the beard trimming tool with a guard, without one, for stubble or a long beard.
Sounds great? Let's dive into trimming the way it should be!
How to Use a Beard Trimmer Flawlessly in 5 Steps (2022)
Learning to use a beard trimmer properly is important because this tool can do much more than just trimming your beard. You can use it to enjoy different beard styles, achieve the perfect level of stubble, and whatnot!
Hate texts? Then watch this video to see how Matty Conrad, the expert barber, uses a beard trimmer and other tools:
Love to follow up and come back? Then hold your horses! And let's start this step-by-step guide to choosing and then using a beard trimming machine!
The first thing you need to do is figure out what length you want your beard to be. Do you love a short beard? Or do you want to go for a long one?
This decides what type of beard trimmers you should buy in the first place.
1/ Decide on the Type of Beard Trimmer.
There are two major types:
Rotary Beard Trimmers
Foil Beard Trimmers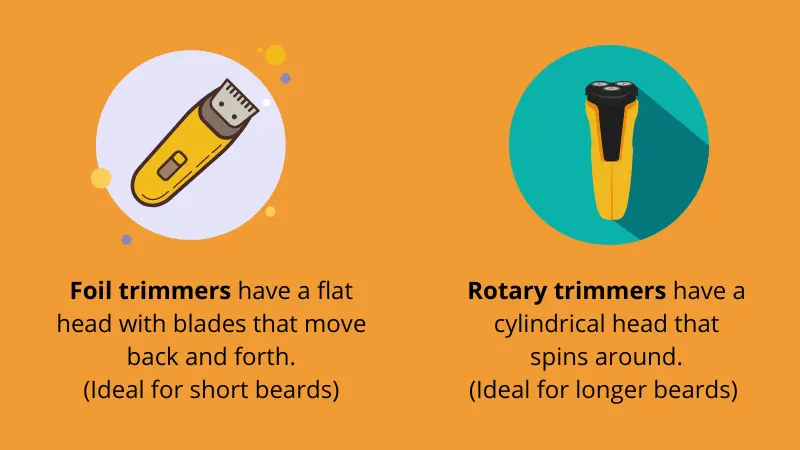 Rotary trimmers have a cylindrical head that spins around, making them ideal for longer beards.
On the other hand, foil trimmers have a flat head with blades that move back and forth. This design is best suited for stubble or close shave.
It's time to look at a few more aspects while buying the best beard trimmer for your facial hair.
2/ Consider These Things As Well.
Keep these things in mind when choosing your trimmer:
Confused? No worries, let me help you out 🙂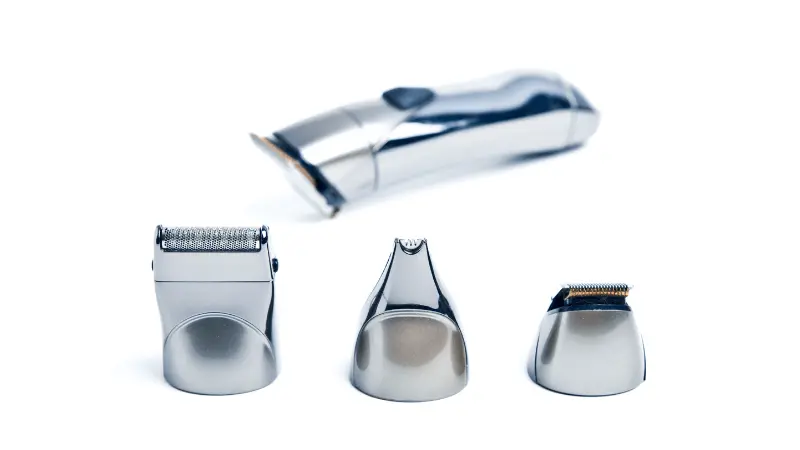 Brand, Build Quality & Accessories:
A good quality trimmer should last you years without any problem. So, don't just go for the cheapest option available.
But ensure the quality with this checklist:
Made with solid metal like stainless steel.
Commendable grip to avoid accidents.
Lubricating oil to protect the blades.
Cleaning brush to keep it hygienic.
The brand is always an essential factor when choosing any product. But it is even more critical when picking a beard trimmer. Have a look at some of the top brands for buying beard trimmers:
Your Beard Length:
I have already discussed the relation between your beard's length and trimmer's type. Let me talk about the guards and heads now.
If you're looking for something short or a 5 o'clock shadow, a beard trimmer with a few guards is enough! But if you have a goatee or chinstrap beard style, you may look for a trimmer with multiple guards.
Your Budget:
Beard trimmers are available in all sorts of price ranges. I recommend going for the top-quality trimmer for your facial fuzz.
But then understand your needs first. For example, you may go for a $20 price range if you don't need a lot of guards on your beard trimmer.
Special Features:
Some features are much needed, while others are just gimmicks to spend more money. Again, consider your needs and select a beard trimmer with the ones you want. Let me share a few features to consider while shopping for a beard trimmer:
Cordless & battery-operated for easy portability (For travelers).
Adjustable speed settings for different beard lengths.
Waterproof for wet/dry use and easy cleaning.

Beard vacuum to clean your sink.

Self-sharpening blades.
Beep alert for low battery.
Variable trimming speeds.
And the list goes on! Once you have bought your beard trimmer, it's time to get it ready for action.
3/ Oil the Blades & Assemble the Guard
Start by applying some lubricating oil to the blades. This will help them stay sharp for a more extended period.
Here's how to do it:
Remove any guard comb you have attached to your trimmer.
Ensure you don't have any hair on your trimmer's blade. 
Spray and swab the edges with a clean cloth to maintain hygiene.
Switch your beard trimmer on.
Add a few drops of oil to its bare teeth while they are still running.
Run your trimmer for about fifteen to twenty seconds.
Then switch it off, and clean off excessive oil.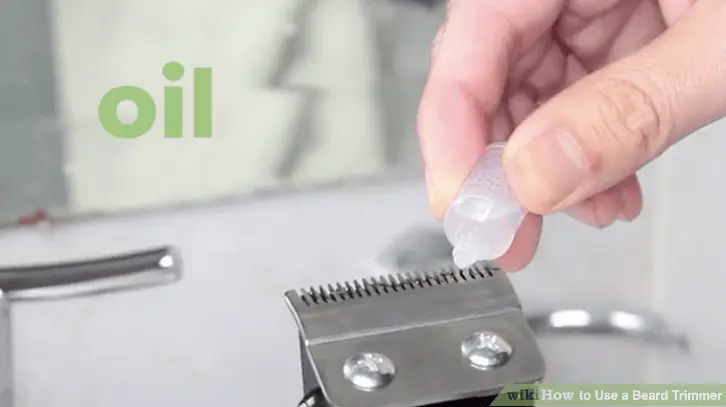 Assemble the guards, and you're ready to go! Beard trimmer boxes usually come with the oil. If you have run out of it, you can always buy it from Wahl, WD40, or any other reliable brand.
4/ Time to Trim That Long Beard!
It's best to trim your beard long, as this will eliminate the scraggly bits of hair. Wash your beard with a mild cleanser and pat it dry. This will help remove any excess oil or dirt from your facial hair.
Now, it's trimming time! And here's how to:
Start slow, don't go all guns.
Comb down your beard to attain your maximum length.
Assemble a guard with the longest length for a fuller beard.
Run your trimmer's blade up against the grains.
Switch to a lower guard for your face and neck.
Trim the hair on your face and neck upwards, from your Adam's Apple to your jawline.
Remove the guide comb.
Clean your outlines using the bare teeth of your trimmer.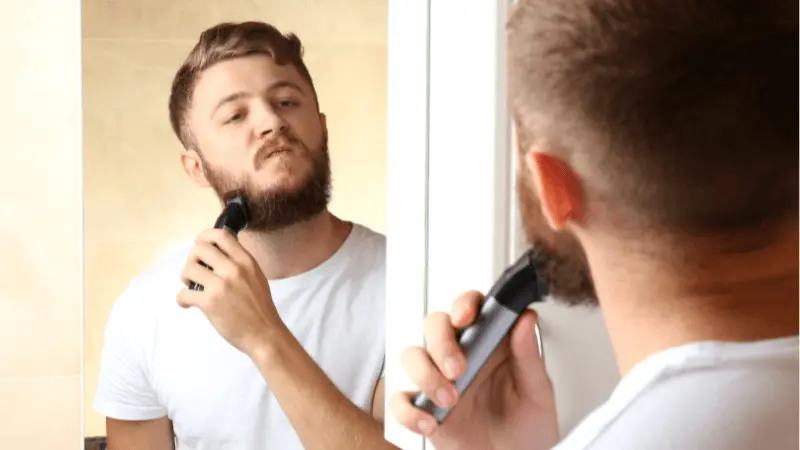 PS: Keep looking at the mirror to ensure an even trim. Remove any stray hair from the cloth and put it in the sink. After use, carefully replace the beard trimmer in the box. The next step isn't for you if you love your full beard.
5/ Use a Beard Trimmer for Stubble or Chinstrap
Now that you know how to trim your fuller beard, it's time to learn about shorter styles like stubble and chin strap beards.
Here's how to achieve the perfect look:
Start with a clean and dry face.
Apply some pre-shave oil to your beard.
Now, select a shorter guard and attach it to your trimmer.
Start with the longest setting on the trimmer.
And adjust it according to your needs.
Trim your sideburns according to your desired length.
Be very careful while trimming around your Adam's Apple.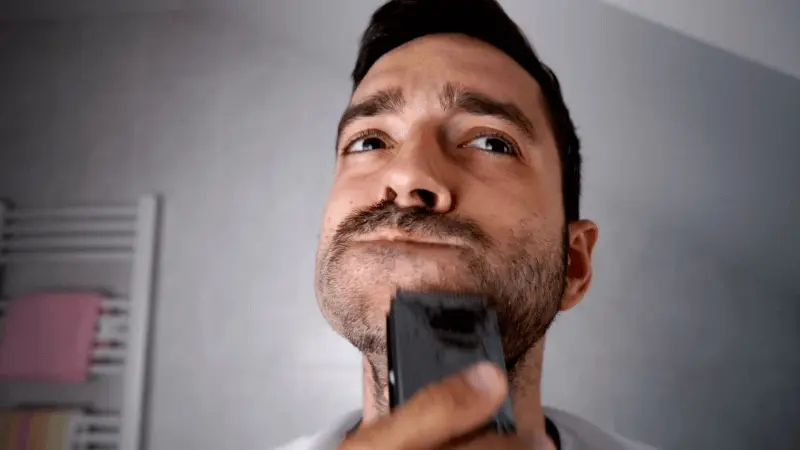 Use a razor to get that perfect chinstrap look. Shave off the hair from your neck and jawline using a sharp razor.
Replace the guard and start trimming your chin strap beard. Start from the center of your chin and work your way down to your jawline.
Trim your mustache according to the length of your chin strap beard. Use a razor or beard trimmer to get a clean look around the edges of your chin strap beard.
9 Tips to Use and Maintain a Beard Trimmer Properly
A beard trimmer is a valuable tool to help you safely manage your facial hair for years. But you need to follow these tips and tricks for that.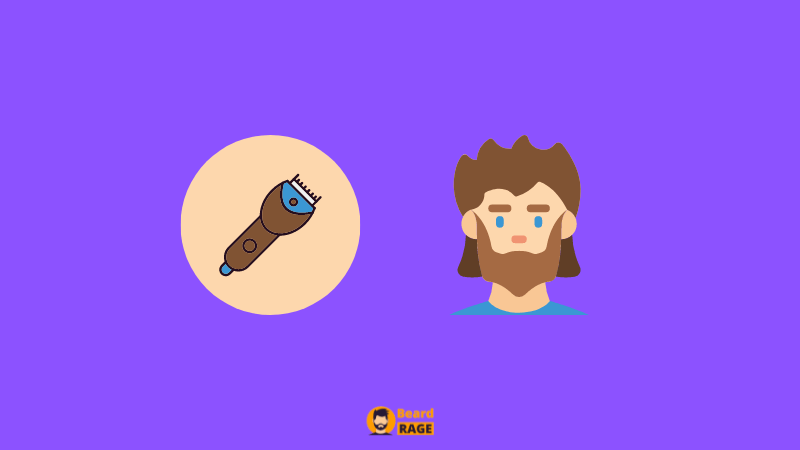 Trim your long beard hairs first.
Place a wastebasket or piece of cloth to catch the hair clippings.
Rise your guards and other attachments with warm water.
Clean your beard trimmer with a little brush and cotton swab.
Oil the trimmer after and before trimming your facial hair. 
Use a container to store and organize your beard trimmer equipment.
Put back your guard combs and other equipment after pruning.
Moisturize, and comb your beard after and before trimming your beard.
Trim parallel to the direction of growth of your beard. Downwards on your beard's front and side walls and perpendicular to your shelf's length (under your chin, leading to your neck). 
Beard Trimmer Attachments Guide (2022)
Beard trimmer sets with a range of these guide combs and guards are usually expensive. If a trimmer with a variety of these combs comes in cheap, it is likely of poor quality. 
The lengths 5-7 are mainly used to trim longer and fuller styles of beard and mustache. Three to four are better for medium-sized beards and 1 to 2 for short hairs.
These beard trimming attachments help you achieve different looks. Let's have a look at the various types of guards and heads available: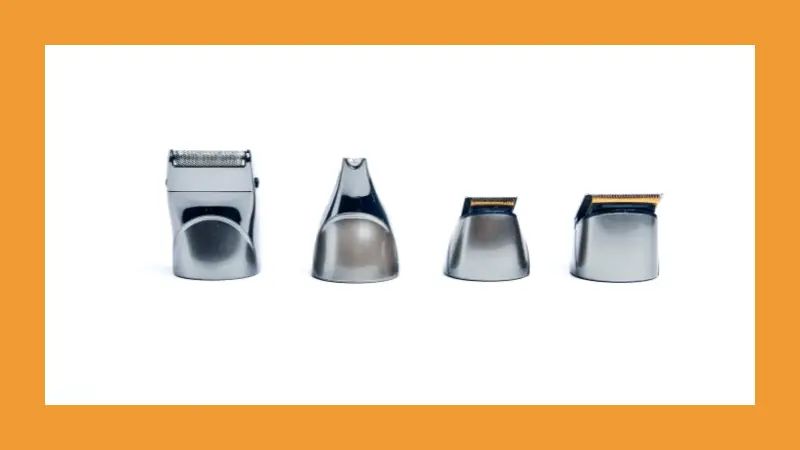 1. Standard Guards & Comb Attachments
These are the most common type of guards used for trimming beards. They come in a variety of lengths to suit different beard styles.
The length of the guard is usually mentioned in mm. Standard guards and comb attachments are available in sizes ranging from 3mm to 25mm.
2. Precision Guards or Edgers
Precision guards are used for trimming small facial hair areas such as the mustache, goatee, and sideburns. They are available in various lengths ranging from 1mm to 6mm.
3. Detailer Guards
Detailer guards are used for trimming tight spaces such as around the ears and nose. They are available in lengths ranging from 1mm to 3mm.
Time for questions about trimming your facial hair now 🙂
FAQs for Using Beard Trimmers and Trimming Facial Hair
Because I want to make this guide as comprehensive as possible, let me answer a few questions about trimming your beard.
Should I run a beard trimmer up or down?

Go with the grain (downwards) to avoid irritation or thinning out your hair or whiskers. But you can trim your beard against the grain (upwards) for a closer trim.

Trimming your hair downwards on your front and side walls gives you more control over your trimmer. If you trim your hair upward, especially in these areas, your beard hair can stick to your trimmer, cutting out more hair than you intend.

The question is not about trimming upward or downward but mainly about trimming parallel to the direction of your hair growth.

How to hold a beard trimmer?

Hold your beard trimmer horizontally against or with the direction of hair growth. Going against the grains will you give an even trim. This way, all the hairs will be of the same length. Hold your trimmer at a 45-degree angle and trim with the grain (downwards) for a more natural look.

What is the difference between a beard shaver and a trimmer?

The difference between a shaver and a trimmer is like night and day. Trimmer will partially trim, maintain, or stylize your hair, while the shaver can remove it altogether.

How to know if the beard trimmer is fully charged?

When using a cordless beard trimmer, it's essential to know if it's fully charged before using it. Most beard trimmers have a little LED light that changes color to help you see if it's fully charged.

How many times should I use my beard trimmer?

Honestly, it depends on how often you want to trim your beard. If you have a short beard, you may only need to cut it once a week. However, if you have a long beard, you may need to trim it more often.

Can two people use a trimmer?

Two or more people can use the same trimmer, but cleaning it after each use is important. This will help to avoid any skin irritation or infection. My recommendation? Don't use the same trimmer on two different people. You never know who may be allergic to what.

What length should I set my beard trimmer?

The length you set your beard trimmer will depend on the style of beard you're looking to achieve. The typical length for a beard trimmer is 1-3mm. But it depends on your beard's size and looks. The lower the guard number the shorter the hair will be.

Can you use a beard trimmer on female or male public hair?

Yes, you can use a beard trimmer on male and female public hair. But again, it's important to clean the trimmer after each use. And remember, you can't clean-shave it like a razor, so the trimmed hair will still be visible.

How to sharpen a beard trimmer?

If your beard trimmer is starting to tug or pull at your hair, it's time to sharpen the blades. You can either do this with a sharpening stone or take it to a professional.

If you want to do it yourself, use a 4000 grit coarse honing stone that you can find at any home improvement or hardware store!

Angle the blade and move it forward across this sharpener until you've achieved a nice, sharp edge.

If your trimmer has two blades, ensure to sharpen both!

How often should I change my beard trimmer blade?

Changing your beard trimmer blade every 6-8 weeks is vital to avoid any skin irritation or infection. And it's always a good idea to have a few spare blades on hand, just in case one gets lost. As for the trimmer itself, the lifespan is between 5-7 years.

What is the best way to use a beard trimmer?

The best way to use a beard trimmer is to start with the longest setting and then adjust it according to your needs. Trim your sideburns first, and then trim your chin strap beard. Be very careful while cutting around your Adam's apple. Once the trimming is done, use a brush to remove any loose hair.

Can I use a body trimmer for my beard?

No, you should not use a body trimmer for your beard. The blades on a body trimmer are not designed for facial hair and can cause skin irritation. If you want to use a trimmer for your body hair, get one specifically designed for it.