Maintaining the length and style of your beard asks for attention and a healthy, balanced regime. Not trimming your beard hair and whiskers for so long may downgrade your appearance and personality. But it's better late than never. So today, you'll learn how to trim a long beard properly. 
Getting help from your hairdresser or barber is easy, but you want to pamper your beard yourself. Sometimes you do it yourself because you want to stylize it your way. 
Or maybe it's a full-time job for you to shape your full beard with clippers or scissors. Whatever the case is, trimming is a lot of fun if you do it right and know how to use a beard trimmer.
How to Trim a Long Beard Properly in 2022
Follow these steps for trimming your beard evenly. 
Wash Your Full Beard 
Your beard can become the best sticky pad for bits of food, bacteria, and dirt. So it's essential to wash your beard every day using a gentle cleansing beard shampoo. You can use just about anything like a traditional hair shampoo to clean it.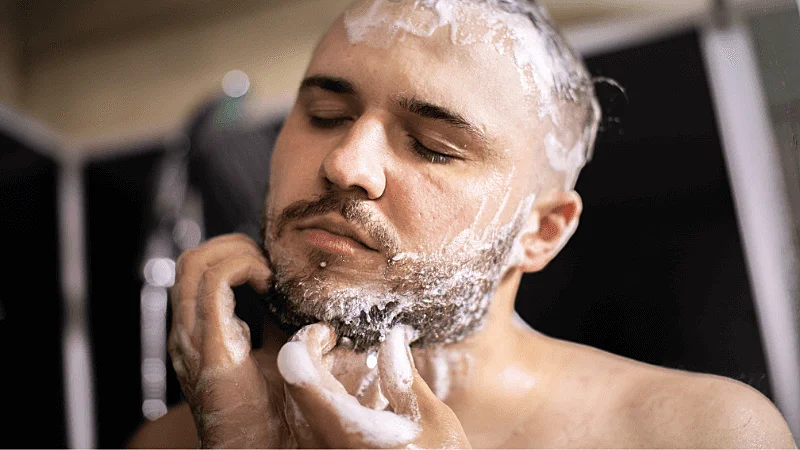 But it may strip your beard of essential oils, making it look dry and brittle. That's because the pH of your scalp is much higher than that of your facial skin. So you need to be careful when using anything on your beard hair. 
Here's how you wash your beard properly
Wet your beard hair.
Cleanse the bearded area with a beard shampoo.
Rub it all the way to your skin using your fingers.
Thoroughly rinse your beard with water.
Use a beard conditioner and leave it in for a few minutes.
But don't use the conditioner on your skin to avoid brittleness. Comb your beard to remove any knots right away. 
Comb Your Beard to Remove Any Knot
After washing and conditioning your beard, pat it dry using a clean hand towel. Gently brush through the tangles of your hair using a wide-toothed comb. And use a narrow-toothed comb to tame your mustache.
Using a beard oil like Shea Moisture Beard Conditioning Oil will help comb your beard smoothly. It's because the oil contains shea butter and maracuja oil to moisturize your hair.
Comb your beard from the bottom and work your way up towards your jawline and chin.
This will help prevent your beard hair from breaking and stimulate blood flow. It ensures your strands are at their maximum length so that you don't trim a full beard more than you should. 
Decide on the Beard Styles That Suits You
Find a beard style that suits your facial features. Different beard shapes work for different faces. This helps you get the idea of trimming a full beard according to your style. 
For example, if you have a round face
Keep beard hair at the side walls snipped close to the jawline.
And let the hair at the chin area grow.
This way, you will give a more elongated beard shape, add depth and definition to your cheeks and jawline. You can reverse it for a fuller beard that is short in length but with more balance between the shelf and sidewalls.
Start trimming long beard to short now. 
Trim the Sidewalls
Start pruning your long beard from the sidewalls. Don't push the blade into your beard because then you'll be taking out much of the hair. It also makes your beard uneven and empty.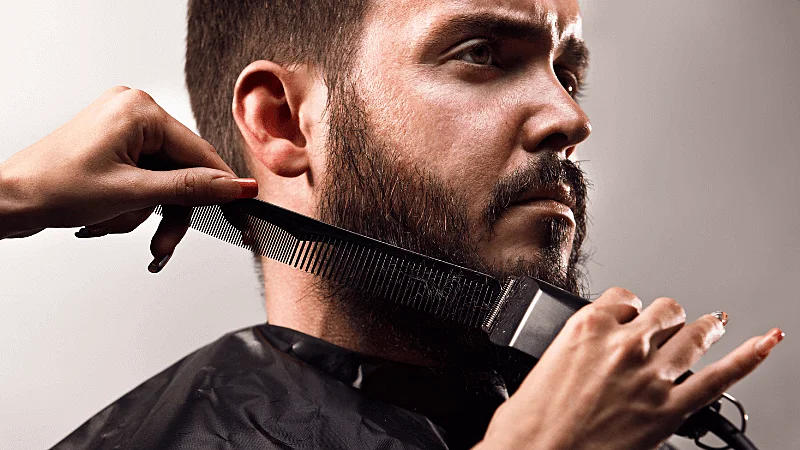 This is how you trim the sidewalls of your long beard properly:
Use the best beard trimmer to work your way through the sidewall of the beard.
Cut off the scraggly and unwanted hair from the sides of your cheek slowly.
Run it down once more to neaten the rough ends sticking out. 
Repeat the process on the opposite side.
Cutting your beard hair downwards will help you preserve your length and give you more control over the trimmer. Put the trimmer a little away from your beard to avoid cutting off the hair that you want to keep.
This will help you achieve a defined and sleek look.
Start Trimming the Front Wall Now
You have shaped your sidewalls, now is the time to move on to the front wall of your beard. Be careful when cutting the front wall because it's the main body of your beard. This includes the hairs on the chin and anything below it.
Attach a guide comb to your beard trimmer.
Maintain your distance and carefully pass the trimmer over your front wall.
Clean the front wall of your beard.
Run it from top to bottom.
Using a guide comb helps you get rid of unwanted hairs that make your beard look unkempt. Trim the front wall of your beard hair as much as needed. And carefully pass over the top of your long beard. 
Tidy up the shelf
The shelf is where all the scraggly ends of your beard meet below your chin, forming the underside.
The part will most likely determine the shape of your beard, where all the parts eventually lead up to. And that's why pruning the shelf demands special attention.
Have the ends of your beard at an angle to your neck.
Tilt your head back while snipping it.
Hold your trimmer upright, with the razor facing towards you.
Start from the bottom of your shelf and move inwards towards your Adam's apple.
Do this for the entire face of your shelf and look at it using a hand mirror. Once satisfied with the beard shape and the resulting edge, move on to the next step.
Define the Beard Line
Use a handy razor to clean your sideburns, cheek lines, neckline, and the part under your jaw. The perimeter of your beard has three parts:
Topline: sideburns and cheeks
Baseline: under the jaws
Lip Line: around the lips
Defining these edges properly shows the difference between a professional beard-do and the one you even up behind your bathroom sink.
Creating a sharp outline will contour the shape of your face and enhance your features. Create a sharp straight line that defines your sidewall towards your lip to add depth to your cheeks. You can also shave upwards to remove all the stray hairs. 
Trim Your Mustache
Your mustache needs more maintenance than your beard. The hair of your mustache is thicker and grows quicker than beard hair.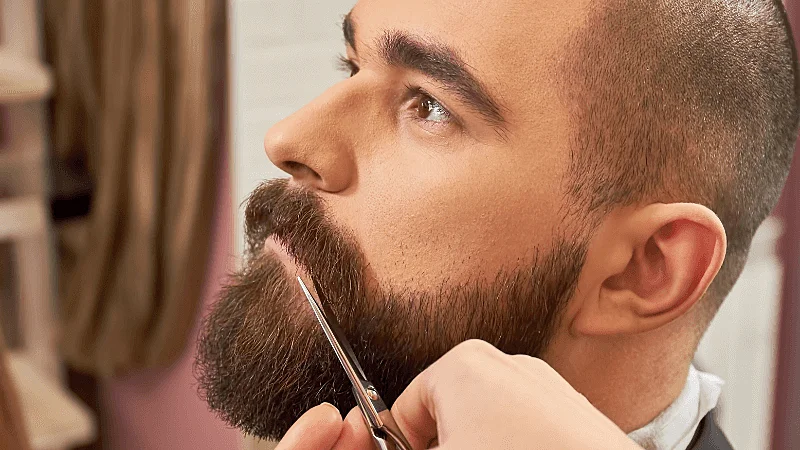 To even up your mustache correctly
Use a comb to flatten out the hair above the lip line.
Then, grab a pair of scissors to snip away the stray hairs.
And create an unkempt impression.
Start cutting from the center and roll towards the corner of your mouth. 
Move it outwards on one side of your mustache.
Repeat the process on the other side.
And use a pair of scissors to get rid of hair missed by the trimmer. If shaving or trimming your mustache is not your thing, you can always try curling the ends to complement the full beard look.
Moisturize and Stylize
Moisturizing your beard is equally crucial as trimming it. It hydrates the facial hair and skin as well. Also, it soothes irritation and burns you might have when shaping your sideburns and outlines. 
Coconut, olive, and apricot kernel oils are wonderful natural moisturizers. Moisturizing creams and oils give your beard the nourishment it needs to maintain its growth.
To get the best results from your moisturizer,
Use it after washing your beard
Massage it through the facial fuzz
And use beard conditioner or oil sparingly
Do you want a recommendation? WAHL beard crème is one of the best beard moisturizers in the market. It's my go-to secret for softening my facial skin and hair. It's paraben and phthalates-free and contains various seed oils that replenish your beard hair.
Once you have moisturized your beard, use a beard wax to stylize your now trimmed facial hair. But don't overdo it. Keep combing the hair with a beard brush after the trimming. 
Keep up the routine.
A healthy beard demands attention and consistent care like all good things in life. To keep your beard in the desired shape and length, ensure to trim it every 3 to 5 days. Regularly trimming your beard will keep it healthy as well.
Dos and Don'ts of Beard Trimming
Beard care is delicate. Isn't it? You need to take care of your beard like a baby or pet. This post would be incomplete without the dos and don'ts of beard trimming.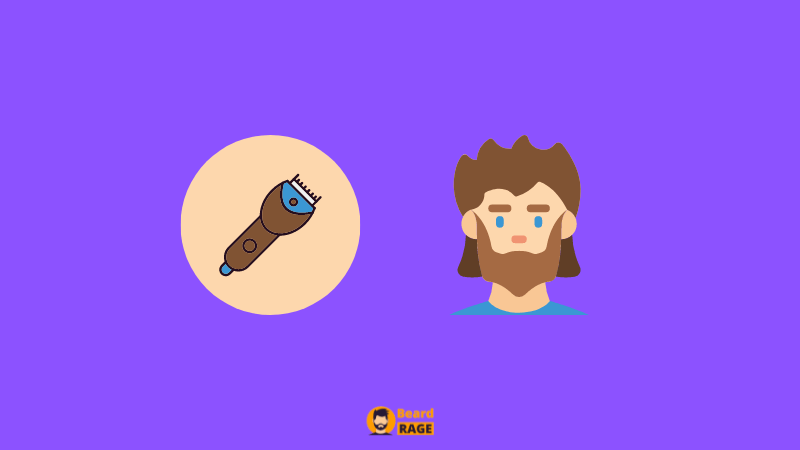 Dos of Beard Trimming
Use the right beard trimmer and other accessories to trim your long beard.
Wash your beard before trimming.
Trim the thickness of your beard before the length.
Start beard pruning in a good light and accurate mirror.
Trim a full beard to short once in a while.
Combine the hair strands so that they are at their maximum length.
Use beard oil to lubricate the surface of your beard.
Create a fine top line and bottom line for a sharp look.
Moisturize the ends of your beard hairs after you are done.
Don'ts of Beard Trimming
Trim long beard to short in haste. Trim it too much in one go.
Over trim your long beard – you'll be compromising on its length. 
Trim your stray hairs every day
Apply moisturizing creams every day
Tidy up the underside of your beard before snipping the side walls
Trim in upwards direction
At the end of the day, you can stylize your beard as you please. Follow these dos and don'ts of beard trimming or throw them out of the window; the choice is yours. But remember, all beards are created equal; some of us just take better care.
FAQs on How to Trim a Long Beard Properly (2022)
Let me answer some of the most frequently asked questions about snipping your full beard.
How do I grow my beard faster?
While the growth and fullness of your beard may depend on genetics, testosterone, and DHT levels, you can try a balanced diet, exercise regularly, and sleep well. Exfoliate your skin correctly and take vitamins carefully. 
Contrary to common belief, beard trimming never reduces growth. Instead, it signals that you are growing a big beard. Trimming your long beard helps you get rid of split ends that spiral into a thinning beard.
How Often Should I Trim My Beard?
If you want to keep your beard thick and long, trim it every 6-8 weeks. This is long enough to keep your facial fuzz healthy and still let them grow. But if you want to keep a short beard, snip it every 3-4 weeks. Cut the unwanted facial hair every 3-5 days if your goal is to shape your beard properly. 
Do I Need To Wash My Beard Every Day?
To keep your beard clean and healthy, you should wash it daily. Not washing it often will allow dirt and sebum to build up within your beard. And it may clog pores in the skin beneath, resulting in dandruff and acne as well. 
Start using the best beard straighteners and oils to straighten your beard. But don't forget to use the beard protectant or heat shield when using an electric straightener. Trim your beard regularly. And avoid straightening your beard hair too often. 
TL; DR How to Trim a Long Beard Evenly
I recommend you go through the entire post to properly understand how to trim your beard. But if it's too long for you, I've got you covered with the summary.
So here are 10 steps on trimming a full beard:
Wash your beard first.
Brush it to remove any knot.
Keep the beard style that suits your face in mind.
Start pruning the sidewalls.
Trim the front wall of your long beard.
Clean the shelf carefully. 
Define the edges.
Trim your mustache.
Moisturize and stylize your beard.
And keep up the healthy routine.
You don't need to do all the steps if you have a short beard or stubble. Wanna a one-liner how-to on beard trimming? Here we go; trim sidewalls, front wall, and shelf of your beard. Sounds great? Let me know in the comments below. I'm always all ears!