It takes 2 to 6 months to grow a beard. But you never expect it to grow out in a curly and unkempt way while growing it. You need a little taming to make it stylish. And this post will help you learn how to straighten beard hair.
Straightening your beard has become easier than ever, thanks to the recent advancements in fashion and tech. You can enjoy a straightened beard in under five minutes even if you have the curliest hair.
Using a heated brush, beard straightener or wax will deliver mind-blowing results. In addition, I will discuss some of the best ways and tips to straighten beard hair.
Sounds exciting? Let's get started right now. 
Actionable Tips on How to Straighten Beard Hair (2022)
Straightening your beard requires a lot of time, patience, a slew of beard care products, right? Wrong! With these actionable tips, it will only take you a few minutes to straighten up your beard. 
1. Start With A Handy Beard Straightener
To make your beard straight, you can certainly use a blow-dryer, beard oil, and everything in between.
But the best way to straighten a beard is to use a beard straightener.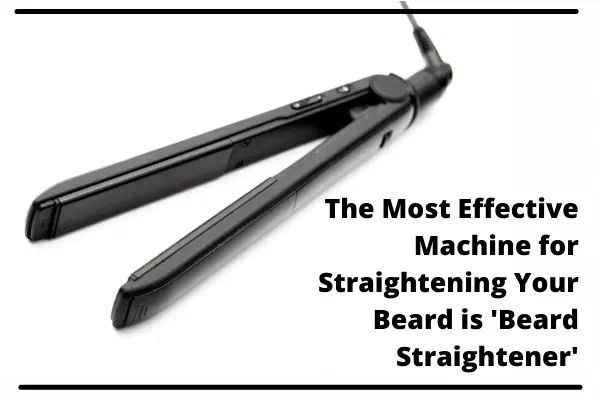 And I recommend buying only the best beard straightener available in the market. It should be safe and easy to use and have a reasonable price.
Heated beard brushes are awesome beard straightening machines as well. They don't have a large iron plate so you can use them while you're carefree. 
How to Straighten Beard Hair With Heated Brush or Straightener 
Be careful when using a hot tool like a straightener or heated brush. And follow these steps to straighten your beard with a straightening machine: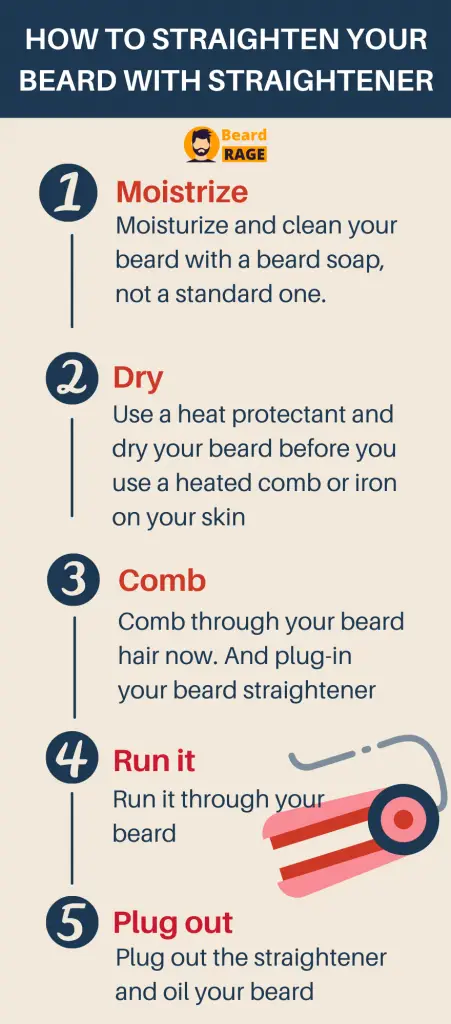 Moisturize and clean your beard with a beard soap, not a standard one. 
Use a heat protectant before using any hot tool
Dry your beard before you use a heated comb or iron on your skin
Comb through your beard hair now
Plug in your beard straightener now and let it heat. 
Run it through your beard from top to bottom slowly 
Plug out the straightener and oil your beard
Do you see how easy it is to straighten your beard with a straightener? 
2. Trim It to Straighten Your Beard Perfectly
Understand that straightening a curly beard is an art. Trimming makes the art easy-peasy. Trim the extra hair before you straighten your beard with the best beard trimmer or beard scissors. 
Here are three reasons for trimming your beard: 
Less fluff (So you need less effort to straighten your beard)
Reduced time (because you don't need to worry about unwanted hair)
And this is how you trim your beard hair seamlessly:
Wash and dry your beard hair
Define your neckline and start trimming
Trim the hairs located below your new neckline.
Trimming your beard may not be a must but it does help to straighten your beard.  
3. How to Straighten Beard Without Heat
Use beard oils, waxes, creams, and balms to straighten your beard hair without heat. Many of them have already established themselves as beard hair straighteners. Let's get to know some of them one by one. 
Use Olive oil
Olive oil does wonders for straightening and nourishing your beard hair without a doubt. The glossy surface makes it appear straighter while also enhancing its luster. Here's how you benefit from the oil:
Put it on your beard and straighten your hair with a brush in the direction it grows.
Olive oil reduces itching, prevents dandruff, and promotes growth. Honestly, it works like a charm! 
Go for Milk and Honey
Check out this quick and easy way to straighten your beard hair using the time-proven combination of honey and milk.
Mix the milk and honey and apply it on your beard.
Brush your beard hair while the mixture is still on it.
Let it sit for 30 minutes, then rinse it off and pat dry gently. 
That's just it! You'll find awesome results without a doubt. 
Apply Coconut Oil
The oil helps you grow your beard and straighten it like a pro. Use the oil regularly and make your beard smooth and easy to clean.  This is how you use the oil:
Apply the coconut oil your beard
And brush it or massage it with your hands
Comb your beard hair in a desired direction
Coconut oil has hydrating and protective properties. And you don't need to wash it out!
Use Other Natural Oils to Straighten a Beard Hair
Amla Oil
Argan Oil
Jojoba Oil
Castor Oil
Almond Oil
Tea Tree Oil
Avocado Oil
Eucalyptus Oil
Black Seed Oil
You may need to apply these natural oils every day if you want straight beard hair. As opposed to other methods, using oil is fast, hygienic, and less risky.
4. Get Long-Haul Results By Using Beard Wax
Beard wax makes your beard attractive and silky. It helps sculpt and hold the beard in place. Some of the best beard balms have beeswax and other nourishing ingredients.
Read also: How to Use Beard Balm Correctly in 3 Easy Steps.
5. Avoid Straightening A Wet Beard
Do you believe straightening your wet beard is a fantastic idea?
It's actually not. In fact, it is a mistake. Why? 
Research suggests that utilizing heated tools on a wet beard can cause severe damage to the hair.
The reason behind this is that when water is evaporated from the hair, even small drops will boil & damage the beard. 
When water expands inside the fibers of your hair without anywhere to go. Eventually, it dissolves keratin bonds that give your beard its shape and thickness.
The research suggests that: 
"When used on dry hair, thermal treatments can damage the hair structure and cause chemical damage. This results in similar chemical damage as they do in dry hair, but their structural damage is much greater, which results in significant changes to the hair's properties. The quick water evaporation of the hair may be the primary cause."
One more study suggests that drying the beard hair before straightening prevents minor hair damage. 
And that brings me to an actionable tip on how to straighten beard hair.
6. Use The Coldest Possible Heat Setting
Although using blow dryers and beard straighteners is safe because of the recent advancements. But you still need to take care of your beard's rage. That's what we all are here on BeardRage. 
Therefore, I recommend that you use the coldest heat setting on your beard straightening machine. It will keep your beard safe yet straight. 
If you can achieve the same results with a temperature of 300°F, then why straighten your beard at 415°F?
Generally, people assume that more heat equals better results, but that isn't necessarily true. However, it may take a bit longer. But your beard will be in your 'safe hands', right? 
7. Never Forget Beard Heat Shield or Heat Protectant
Heat shields or protectants typically contain an oil-based blend, with silicone or argan oil as the primary contents. 
A beard heat shield protects facial hair from damage by heat. But how?
Well, beard heat protectants contain ingredients like humectants, silicones & natural oils. They create protection over hair cuticles, preserve moisture, and block frizz.
By using the limited amount, you will prevent keratin bonds from disappearing from your beard. 
8. Avoid Straightening Your Beard Too Often
Straightening your beard too often to get it straight is not wise. Let it grow naturally, and then trim it or make minor adjustments with the comb to stylize it. 
And that's all. You don't really need to straighten your beard every day. And if you really do, use natural oils or balms and not straighteners.
Using your beard heat machine 2 to 3 times a week is enough. It will continue to keep your beard looking straight & clean even on days when you don't use it. 
9. Go For Natural Style Beard 
Straightening your beard shouldn't be about achieving the perfectly shaped beard in human history.
Why?
Because a tightly straightened beard looks unnatural. Go for it if you really want it. But we at BeardRage always love to go for natural-style beards. 
The best way to make your beard look natural is to let it grow. 
From time to time, trim the extra facial hair you feel is looking untidy on your face. Plus, a little oiling will make the beard soft and grow fast. 
Here's how you can make your beard grow naturally: 
Apply Sea Salt Spray to your wet beard
Comb it gently or brush for styling
Use a blow dryer on the coldest setting
Using beard products like styling balm and oil may also help in growing your beard naturally. 
10. Benefit from a Little Blow-Dry
Beards are usually straightened with straightening irons, blow-dryers, or using a heated brush straightener before heated beard straighteners were available.
The boar bristle brush or beard comb is a great alternative. But they won't undo the curls in your beard as effectively as the brush or comb will.
So what's wrong with blow-drying your beard the old fashion way?
It takes time, but it is still the most intelligent method for straightening facial hair. And here's how you do it:
Take a shower to wet your curly beard
Fire up your hair dryer and turn the beard into whatever shape you like. 
Keep the settings always at low speed
As you straighten your beard, you can comb with beard comb while blowing cold air throughout to straighten it up. 
This process can take an hour, depending on the length of your beard. If you used a beard straightener, it'd take you 5-minutes or less. 
11. Use a Beard Relaxer (But Not Regularly)
Did nothing work for you?
A beard relaxer will work like a charm!
You'll enjoy a less curly and moisturized beard.
But using it regularly may damage your beard hair.
A beard relaxer may break the bonds between the keratin molecules in your beard hairs. The best approach is to use all the other tips mentioned above.
And avoid using a beard relaxer, especially if your beard hairs are soft.
FAQs on How To Straighten Beard Hair
I have answered some of the most frequently asked questions about straightening your beard. Ask me your question if I haven't answered it. Let's get started!
Should I brush my beard up or down?
The general rule is to comb your beard up first so that you have a fuller appearance. Separating the hairs will also make brushing or combing it down more straightforward. So, generally speaking, it depends on your choice.
How do I stop my beard from curling under my chin?
You can begin by brushing your beard early. Use beard oil, and after that, styling products can help you hold the beard in your desired position. And the beard will remain in this position all day long. Moreover, benefit from beard wax to quickly eliminate curling hairs under your chin.
Do beard straighteners work on short beards?
Using beard straighteners to straighten a short beard will give you better results than straightening a long beard. However, I recommend using it carefully. Don't hurt your skin. Your hair shouldn't be too short to deal with a hot tool. 
Is it possible to straighten your beard hair permanently?
Straightened beard hair usually lasts for 1-2 days, if the beard is extremely curly. The almost permanent solution to straighten your beard hair is using a beard relaxer or hair treatment by a hair specialist.
TLDR: How to Straighten Beard Hair (2022)
Beard styling varies from one person to another. Some people prefer straightening their beards with natural oils or brushing them.
While others prefer using a machine like a beard straightener or a chemical mixture like a beard relaxer to stylize their beard. 
Whatever the case may be, understand your beard to straighten it out.