Is your beard itchy? Does it have dandruff? Or maybe you want to moisturize your beard hair to look healthy. Whatever the case may be, a beard balm will do miracles. This post will help you learn how to use beard balm correctly on full and short beards. 
Applying beard balm helps you get rid of infections, acne, or dandruff. The process is simple, but there are some practical tips for applying beard balm properly. If the post seems too long to read, have a look at the TLDR 🙂
TLDR: How to Apply Beard Balm Correctly (2022)
Wash your beard with warm water and towel-dry it.
Scoop out the beard balm with a finger or two. 
Melt it by rubbing your hands together.
Apply it slowly in a circular motion.
Start from the skin (or root) and work your way upwards.
Watch this video with actionable advice on using beard balm.
A beard balm is a leave-in conditioner for beard hair. It usually comes in a jar with a thick consistency. And the ingredients may include
There may be more or fewer ingredients in a balm. Luckily, you can make beard balm at home according to your needs. You can also use the beard pomade on short to lengthy hairs and mustaches.
Do you want to know more about it? Click on the button right now.
But what is beard balm good for, and why should you use it? 
Why use beard balm in the first place? What is the purpose of beard balm? Does beard balm work? The short answer is yes, it does. Using it as a part of your beard care routine can bring these benefits:
Make your hair soft and shiny
Moisturize and nourish
Hydrate your skin
Stylize your facial hairs 
Promote hair growth
Prevent itchiness and discomfort 
Eliminate dandruff and scaly skin
Protect fungal acne and bacteria 
Thanks to the balm's versatility and effectiveness, it makes your life easier without a doubt. Let's jump on 'how to apply beard balm correctly' now.  
How To Use Beard Balm Properly In 3 Easy Steps (2022)
A lot of my friends ask me, "How do you use beard balm?" And I'm always like, it's dang easy! Let me walk you through the step-by-step process right now.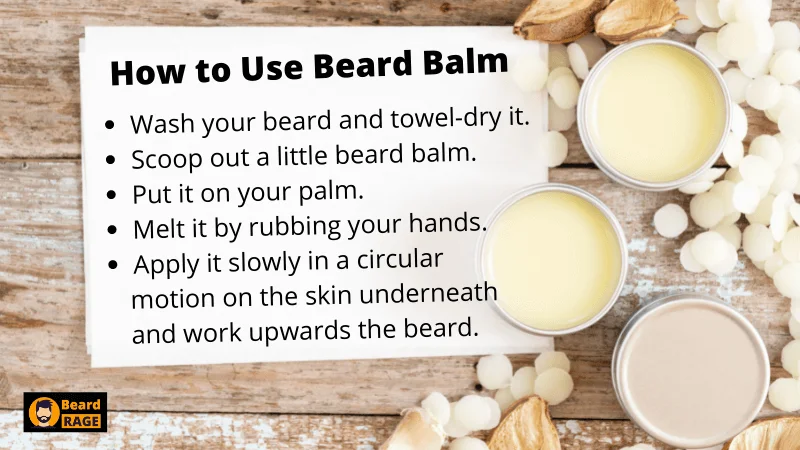 1. Wash Your Beard
Before using the balm, wash your beard with warm water. It'd be ideal to use it right after you shower. After washing your facial hair, dry it. 
This way, you'll never forget to apply it to your beard rage. Also, the skin underneath softens and absorbs the product speedily.
2. Scoop It Out and Warm the Balm
Take out the beard balm with your index finger. And remember, less is more. Spread it on your palm and rub your hands slowly.
As the consistency is a little thick, the rubbing melts it into a paste or oily texture. Scooping out the pea size of the pomade would be enough. Now is the time to apply it to your facial hair. 
3. Apply the Beard Balm Now
And start from the skin under your facial hair or the root of strands. And then move your fingertips up to the hair tips. Do it smoothly in a circular motion.
Quick Tips to Use Beard Balm Properly
Use it on your beard whenever you feel like you need it.
Start with the skin and make your way up to the hairs.
Use the beard brush or comb to spread the balm evenly. Don't store the cream for more than six months.
Frequently Asked Questions About Beard Balm
Let me answer a few FAQs about using beard balm now. ↓
When should I use beard balm?
I believe you should use a beard balm only when you feel like you need it. Apply it to get rid of itchiness and dryness. The ideal time to apply a beard balm is after the shower. Ensure you towel dry your facial fuzz before.
How much beard balm to use?
Honestly, there are no rules because every beard is different. Take a fingertip size of beard balm if you have short facial hair. And take a little more if you have a full beard, of course.
Do you wash beard balm out?
Beard balm does not need to be washed out like any other balm or leave-in conditioner. It can stay as long as necessary. But if you want to apply it again, rinse the hair thoroughly.
Do you apply beard balm wet or dry?
Use the balm on your dry beard after washing it. Take a shower or wash your facial hair with a beard wash but do not apply beard balm or oil to wet strands. Towel dry it, so it's damp but not wet.
How often do you apply beard balm or oil?
I recommend using beard balm or oil on your facial fuzz once a day. But it depends on your lifestyle and beard condition. The general rule is not to use any product more than needed.
How to use beard balm and oil together?
Take a few drops of beard oil on your palm and rub your hands together. Apply it from the bottom of your beard and work your way upwards to the sideburns. And then scoop out a little balm and apply it on your beard the same way.
How to choose the best beard balm?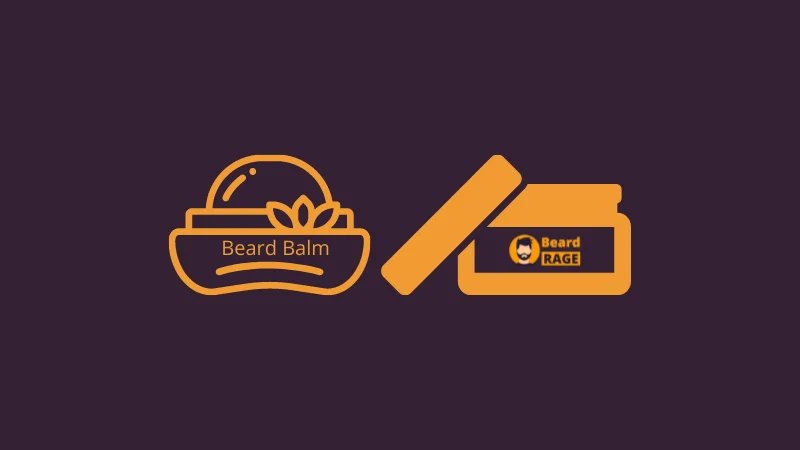 When shopping for a beard balm, ensure it has non-comedogenic oils like jojoba or argan. Otherwise, it can clog your pores badly. Also, avoid any lotion with sulfates, or you may end up with a dry beard. Take a balm with minimal ingredients if you have sensitive skin.
Beard balm vs beard oil: What's the difference?
Beard oil comes in liquid consistency with a dropper in the bottle. It absorbs quickly and may increase hair growth. On the other hand, a beard balm comes in thick consistency and jar packaging. And it moisturizes your beard hairs and brings silkiness to them.
How to use beard balm on a short beard?
Take out a fingertip size of beard balm and gently apply it on your short beard. Do a little massage in a circular motion and finish off by brushing your facial hair.
What about Using the balm on a mustache?
Dampen the beard and mustache with warm water. Take out the beard balm with your fingertips. And start applying it on your mustache.
Let me know in the comments if I have missed out your question 🙂